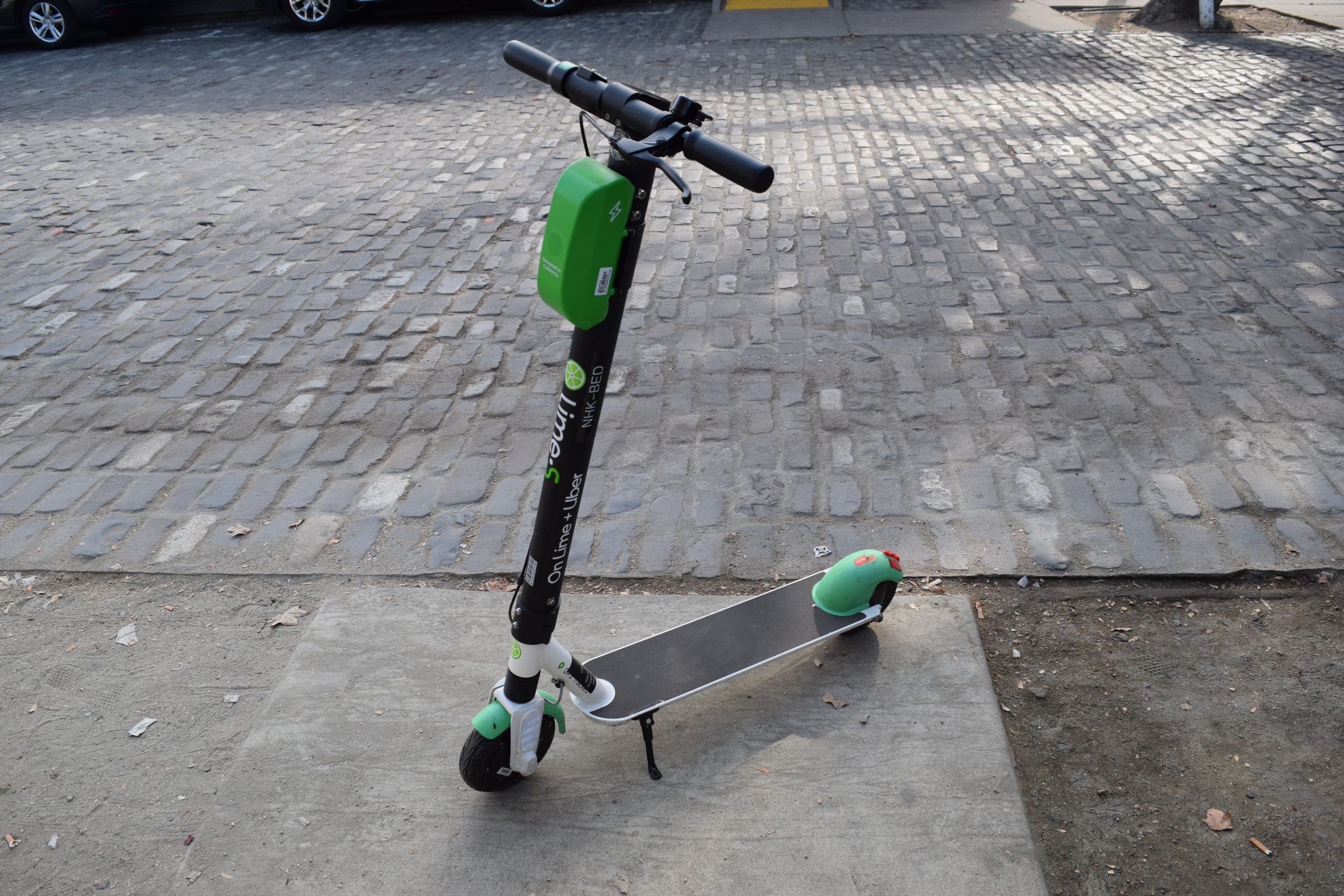 If you ask any individual "what power would you want for a day?" the most popular answer you would hear is to fly. The feeling of flying sounds like an impractical but iconic ability to have. One of the closest activities to flying I have found here in Sacramento, is Lime! 
Lime, like many other on-demand transit options, is available through the Apple and Android AppStore. Once you download the app, follow the prompts for registration, and add a method of payment you can then search to find available scooters!
To start a ride you may either reserve your scooter over the app, or you may scan the QR code directly on any scooter available near you.  
Reserving a scooter and riding around town is exactly what I did this week! Traveling 6 miles in roughly 45 minutes, I was able to see many of my favorite points of interest in Sacramento.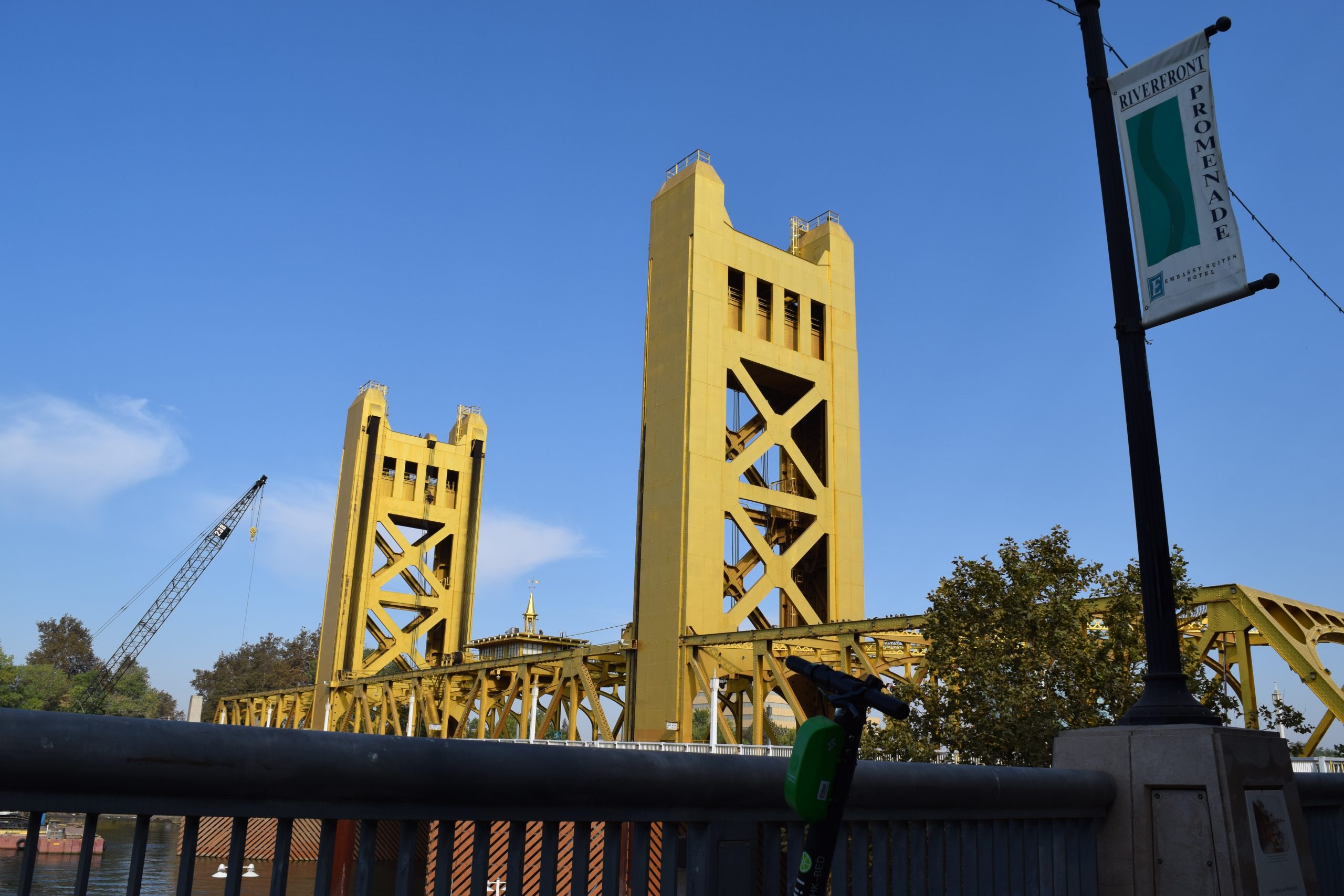 Parking by the Embassy Suites near Old Sacramento I don't have a difficult time finding available scooters to choose from. A lot of these charged-up scooters in this area are around a 5 minute walk away. Kicking off my Lime adventure I began from the Crocker Art Museum and then started cruising across the beautiful Tower Bridge. 
Whenever I ride I always remember an important piece of etiquette for riding any electric scooter; ride as much as possible on streets. In an article written by abc10, they note this rule of thumb that is stated by Officer Karl Chan with the Sacramento Police Department. "Basically our e-scooters are considered motorized vehicles and they cannot be on the sidewalk and have to be ridden in the bike lane or a lane of traffic closest to the side of the street."
Riding the top speed of 13-15 mph you probably don't want to collide with a passerby when wrapping around a tight corner on the sidewalk. Just stay cautious and always maintain a reasonable amount of awareness for your surroundings!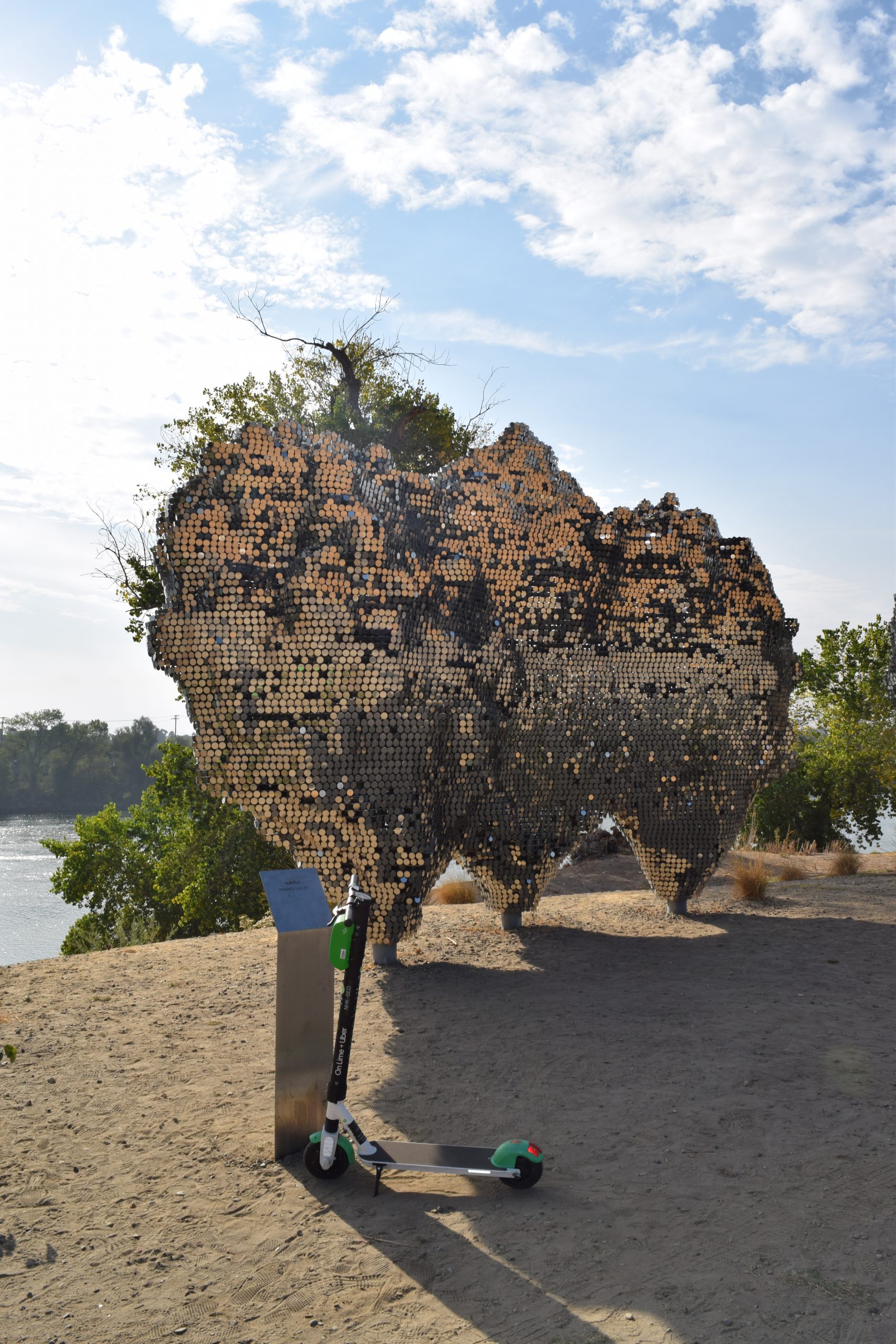 Continuing on, I reach the River Walk trail over in West Sacramento. This is a really fun path to ride with friends as it is a wide open path that allows for friendly competition to see who will arrive first at Drakes: The Barn.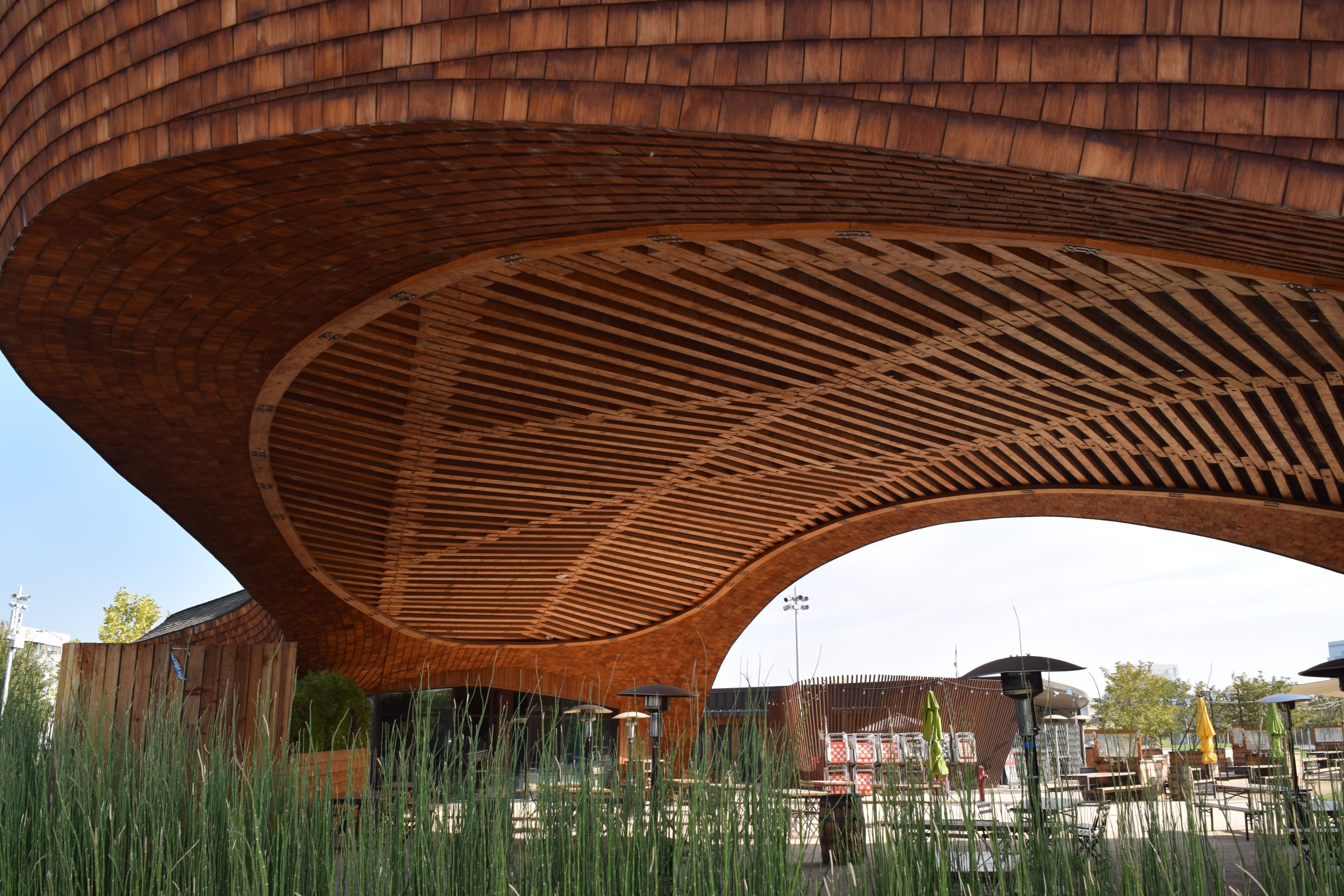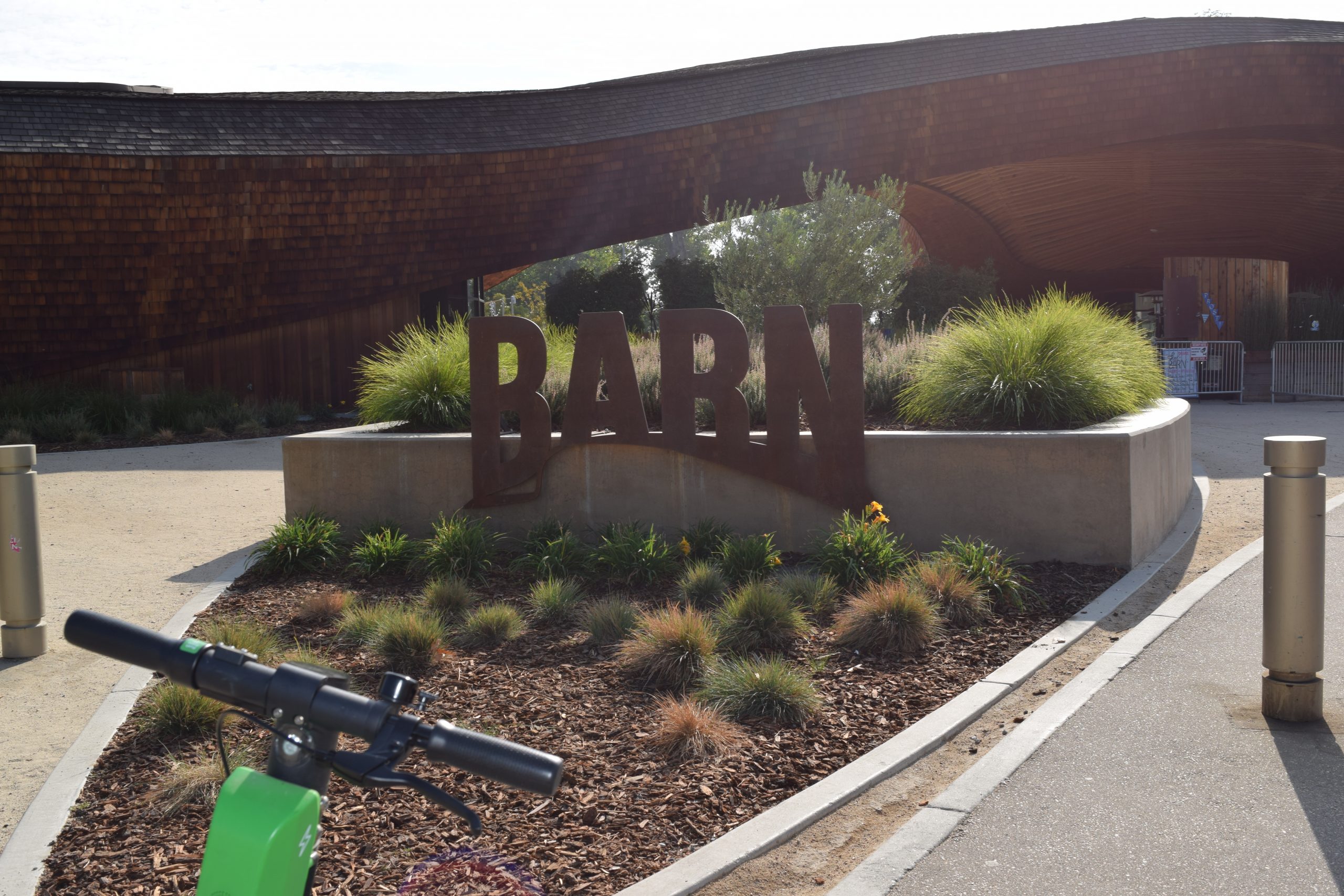 Drakes is not only a great place to go eat delicious pizza and have a good time with friends and family, but also a great place to exchange your scooter if you don't have a fully charged battery. Drakes, like many other hotspots around downtown, is a hub where Lime and other scooter services load their fully charged and sanitized scooters onto bike rack areas to be available for the public. 
With so many on-demand scooter options being available at hotspot: Lime, Spin, Bird, I appreciate that Lime creates a space for equity. Lime offers Lime Access, which provides discounted fares to low-income or qualifying riders. 
On top of being a business entity that provides affordable transportation, they also have Jump bikes available over their app. Per the rider's preference, you may either ride with a scooter or bike. It's up to you!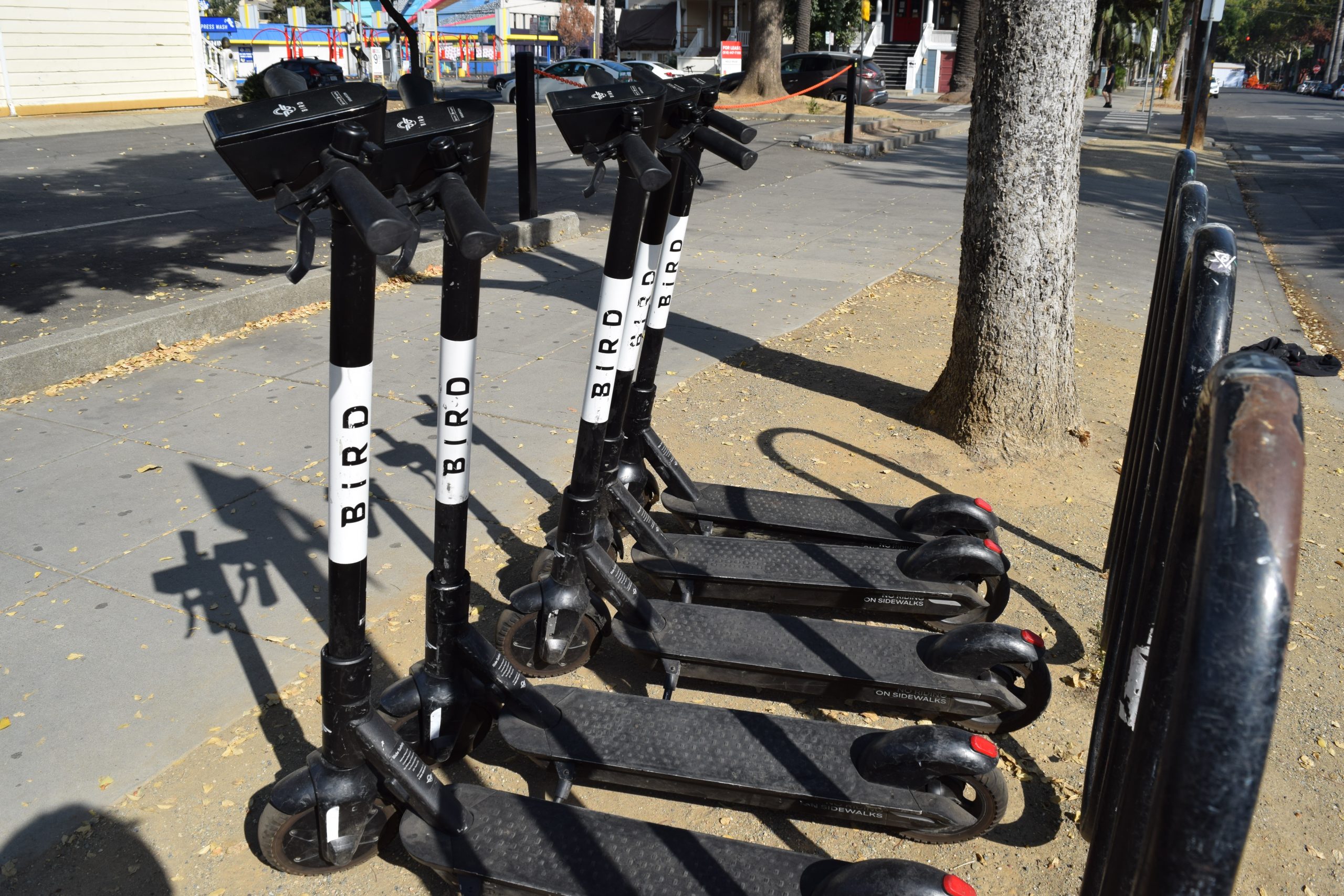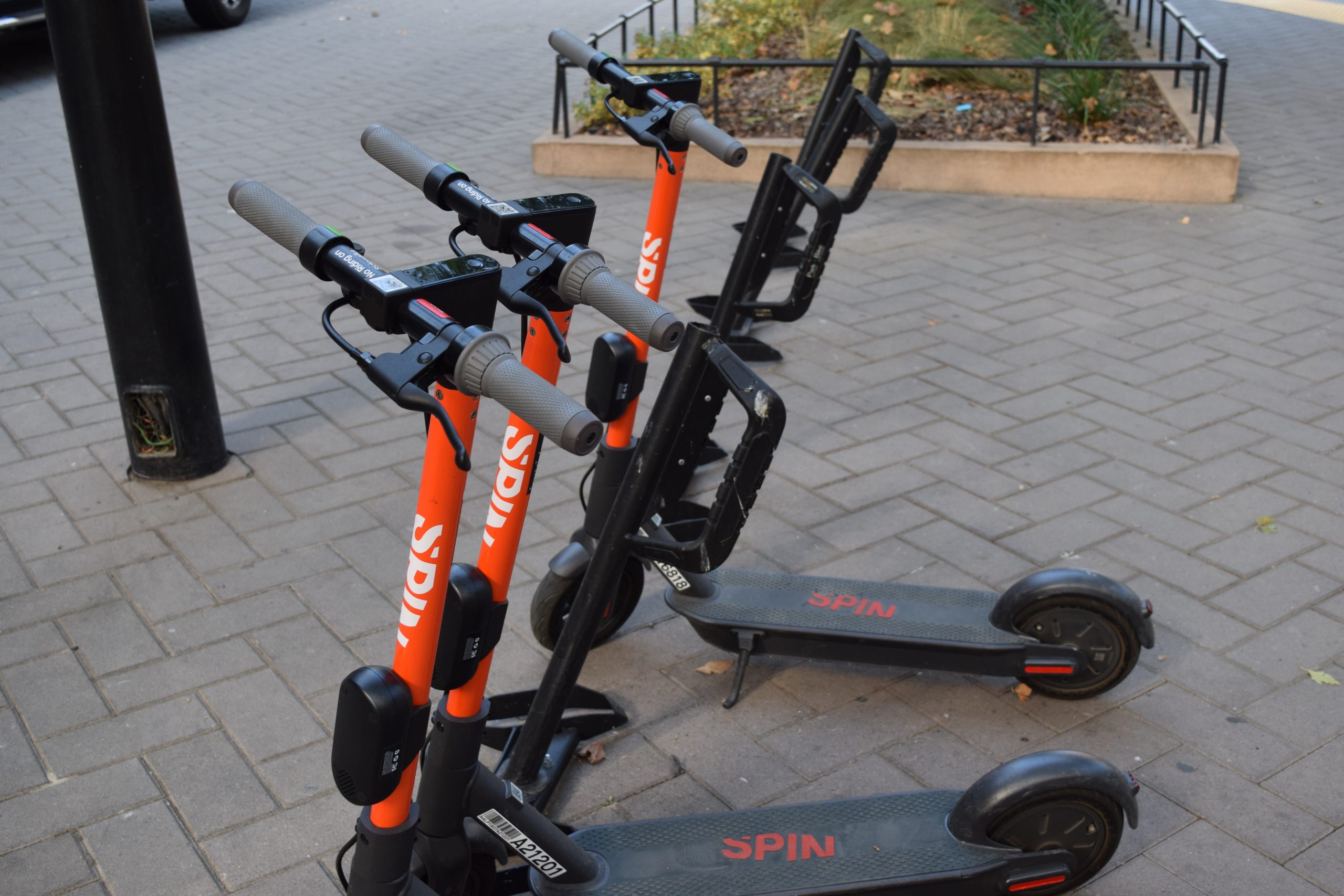 Continuing on my Lime ride, I got to pass through Old Sacramento. With places like Candy Heaven, Joe's Crab Shack, California State railroad museum, and local small businesses, there is always something to eat, learn or do.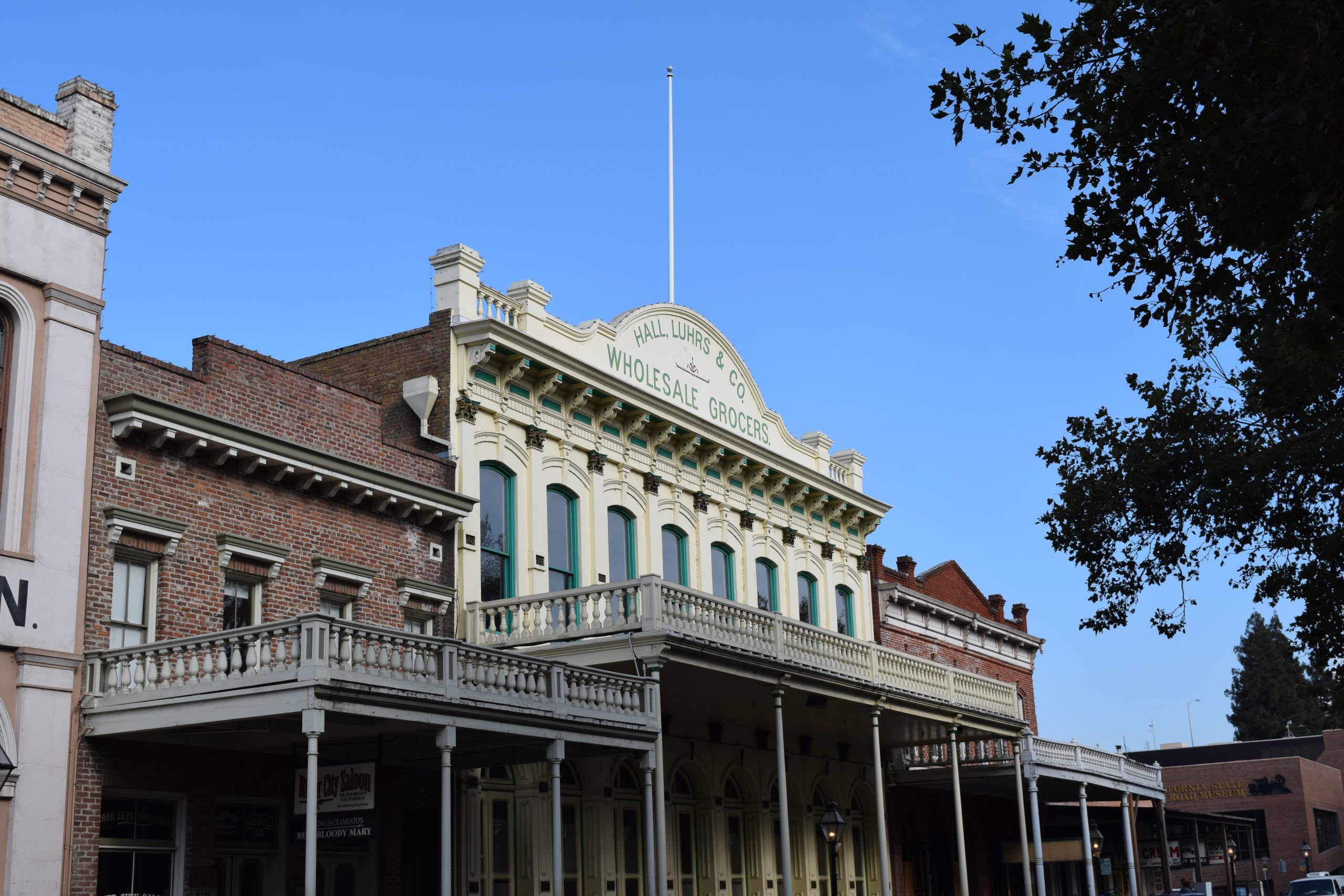 A historical attraction you can visit while riding is the Pioneer Park. A small and ordinary looking chunk of Old town that is representative of the original level that Sacramento used to be at. 
In the mid to late 1800s, constant flooding occurred regularly in the winter time in the young and gold-filled city of Sacramento. With this flooding occurring, the city was forced to adopt a three-pronged approach to flood-control. They would need to raise the city's level with wooden planks, re-route the course of the American River and construct levees to maintain a safe and dry area for the new town and its booming economy.
Today, this area of Old Sacramento that citizens constructed back in the late 1800s remains recognizable as the Raised Streets and Hollow Sidewalks District.
When riding in this historical part of Sacramento, you should take extra precaution with the roads. Laid with cobblestone, the roads aren't exactly made for electric scooters to ride on. Finding a smoother pathway that isn't a sidewalk is your best bet getting around in these parts and a great way to get some window-shopping in.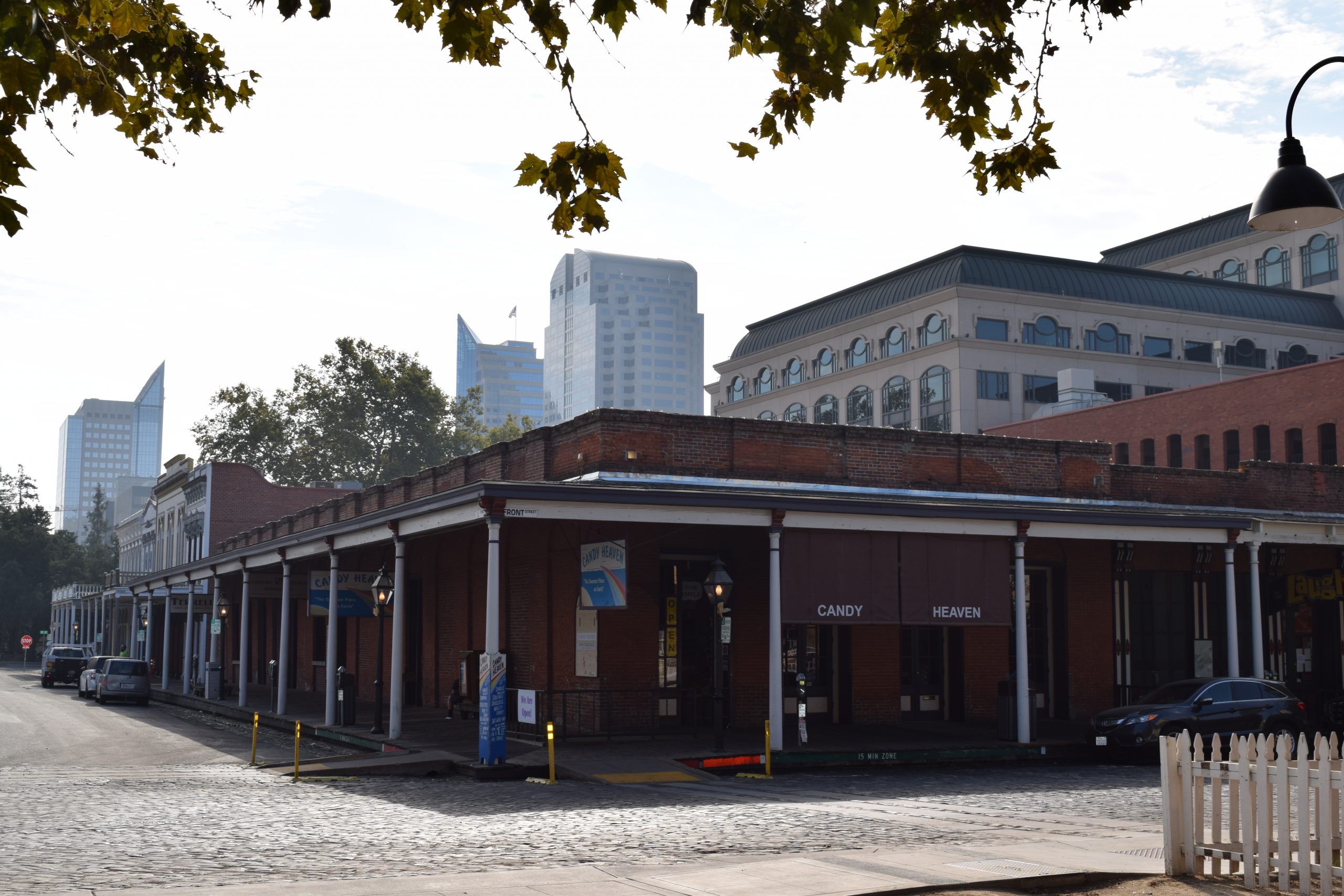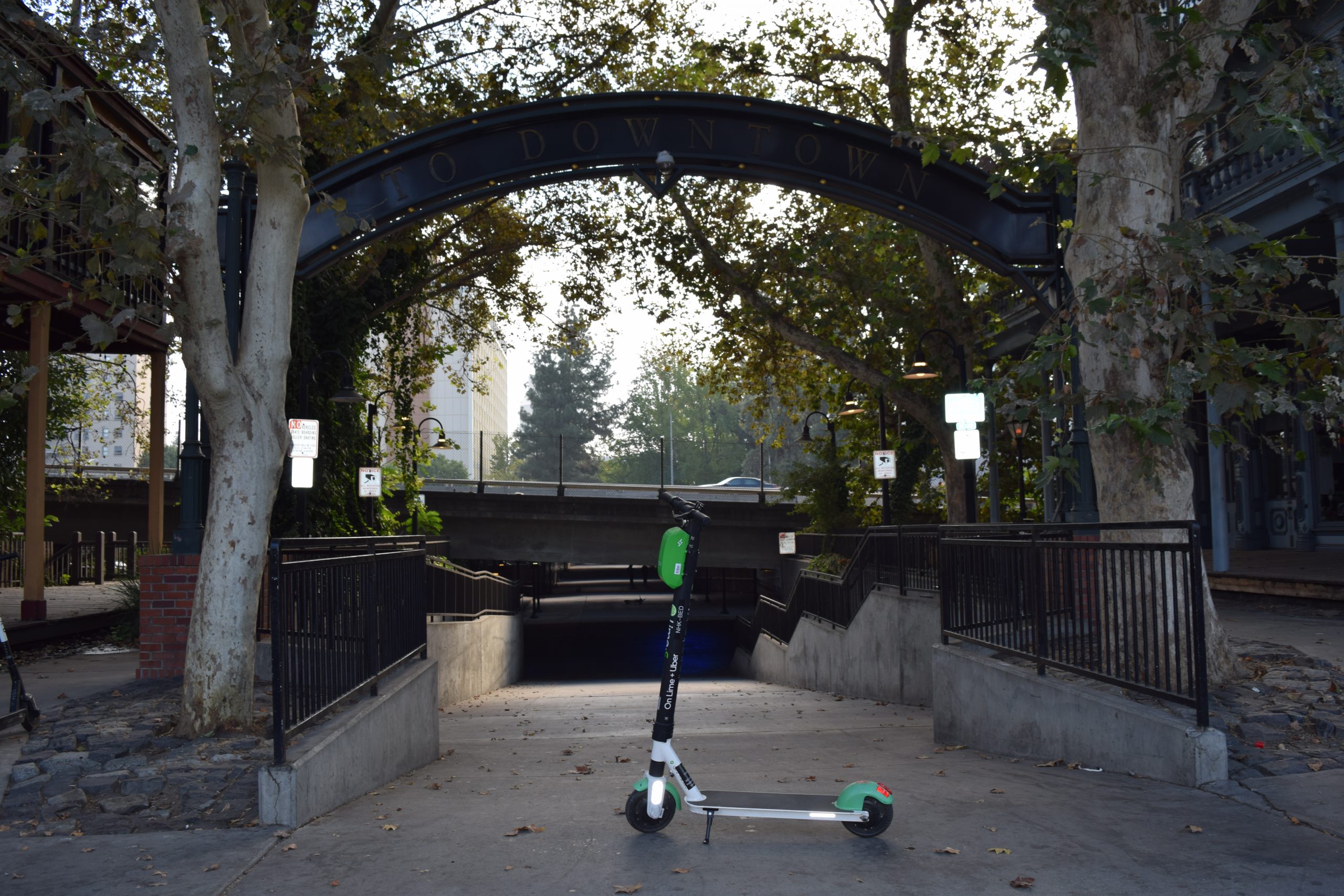 After I got to explore my favorite parts of Old Sacramento, I made my way to one of my most favorite parts of this route. The K Street Tunnel! As I mentioned in the beginning of the article, flying is an impractical but iconic ability. When you have your scooter and you roll down towards the K Street Tunnel that is the exact feeling you get!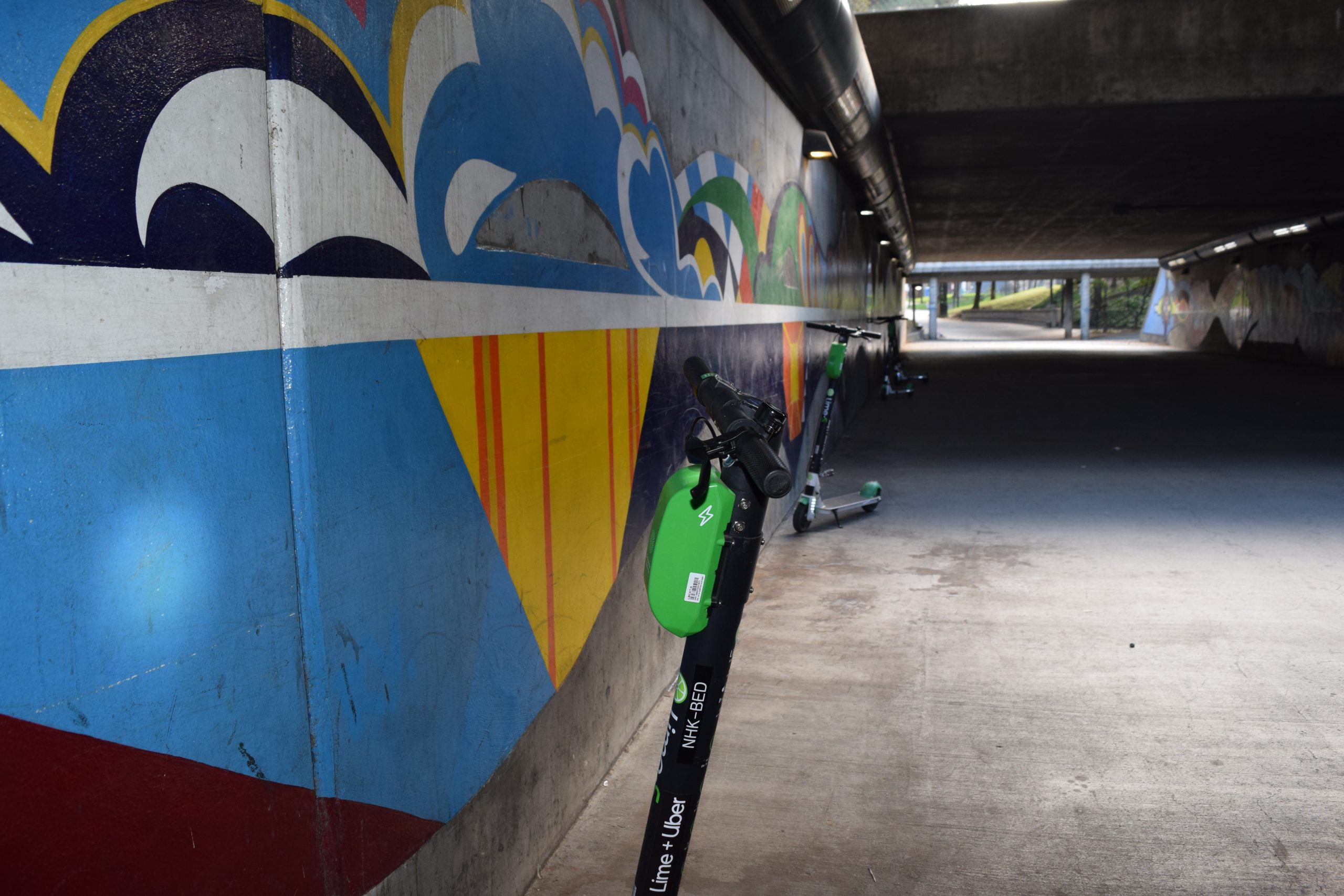 Not only is the tunnel illuminated with brilliant LED lighting, but there is also an array of murals lining the walls from different artists in and around the area. When visiting the K Street tunnel, I can usually find local entertainers here performing music, demonstrating art and even holding dance groups! 
With this tunnel connecting Old Sacramento to DOCO – Downtown Commons, making my way to the Golden 1 Center is a breeze! 
Another rule of thumb to follow is respecting when to ride and when not to ride. With areas like DOCO, there are signs that indicate no ride zones. Fortunately however, you can walk your scooter through these parts. 
In the app there are also listed areas that are low speed and no locking Zones. Where the top speed is 5 mph and ending or pausing your ride is impossible.
After the Golden 1 Center trip I decided to see the State Capitol and our World Peace Rose garden. Here at the Rose garden there are about 650 roses in over 140 varieties of colors and fragrances. A great place to come and smell the roses!
When it came to me concluding my adventure, I made my way back to the Crocker Art Museum and properly parked my scooter. Making sure not to block sidewalks I ended the ride, parking my scooter near a bike rack. 
Scooters can be fun and useful. If used correctly you can budget them into your daily commute or just use them as a resource to get around with friends in Downtown. 
Taking in the sights; while making sure I'm staying safe for me and other residents is something I hope you as a reader will do when you ride your Lime scooter around Sacramento as well.